Watch the show. Meet the groups. Audition.
A Cappella is one of the highlights of life at Stanford. Through A Cappella, Stanford students have forged lifelong friendships and created some of their most treasured memories. While this year will be a bit different, the core musical and social elements remain. If you're looking for community during the virtual academic year, and close friends for when we're back on campus, look no further than Stanford A Cappella!
Each group has different plans for staying connected while distant, so be sure to check out individual group pages, contact us on social media, and reach out to group members for more information.
​
FIRST ROUND AUDITIONS DUE FRIDAY, SEPTEMBER 18 AT 11:59 PM PST! Visit each group's page on this website to submit your online audition.
Each group has their own audition forms, find them on the individual group pages.
As part of the original submission to each group, you will be asked to submit a short singing video.
Two rounds of callback auditions will be held via Zoom.
After the virtual auditions process, auditionees and groups will decide who goes where.
How to Virtually Audition
Frequently Asked Questions
Can I submit the same video to multiple groups?
---
Yes! You can submit the same video to every portal, you can submit differents songs for each group, or any combination of the two.
---
Can I audition for multiple groups?
---
Absolutely! The groups work together to determine who goes where at the end of the audition process after you rank your preferences post-callbacks.
---
How do I record an audition video?
---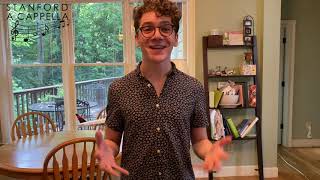 We've got you covered, courtesy of Fleet Street Singers! 1. Don't use background music, aloud or in headphones 2. Listen to your recording to make sure there were no sound issues 3. Don't use autotune or lipsync 4. Try to find a quiet, comfortable place to record 5. Keep a good distance from your mic so we can hear you clearly 6. Don't be afraid to ask questions if you are unsure
---
Which A Cappella Group is the best?
---
Pentatonix or the Bellas
---
How much of a time committment is A Cappella?
---
This may vary year to year and group to group. We recommend visiting the pages of the individual groups or reaching out to members for more clarity!
---
I've never had formal training before. Do I still qualify?
---
Yes! Absolutely! We encourage any and everyone with even a little interest in singing a cappella to audition. It is an irreplaceable experience and you never know where it may lead.
---
How long should my video submission be?
---
Generally aim to keep them below 2 minutes and make sure you're singing at least a 30 second clip of your song.
---
Am I allowed to multitrack my solo?
---
No <3 we want to hear you in your most unproduced form.
---
What's the audition timeline/process?
---
– Friday 9/18 @ 11:59 PM PT is the deadline to submit video auditions via the group audition forms on this portal. Callback 1 invitation are released Saturday 9/19 by 5 PM PT – 1st Round of Callbacks will be held Sunday 9/20 and Monday 9/21 (via Zoom) – By Tuesday 9/22 @ 5 PM PT 2nd Callback invitations are released – Friday 9/25 will be a day of callbacks for this round – Final results are released Saturday 9/26! Don't forget to check out the O-Show livestream here or on the NSO YouTube Channel And stop by and say hi at the activities fair Thursday 9/17 & Friday 9/18
---
---